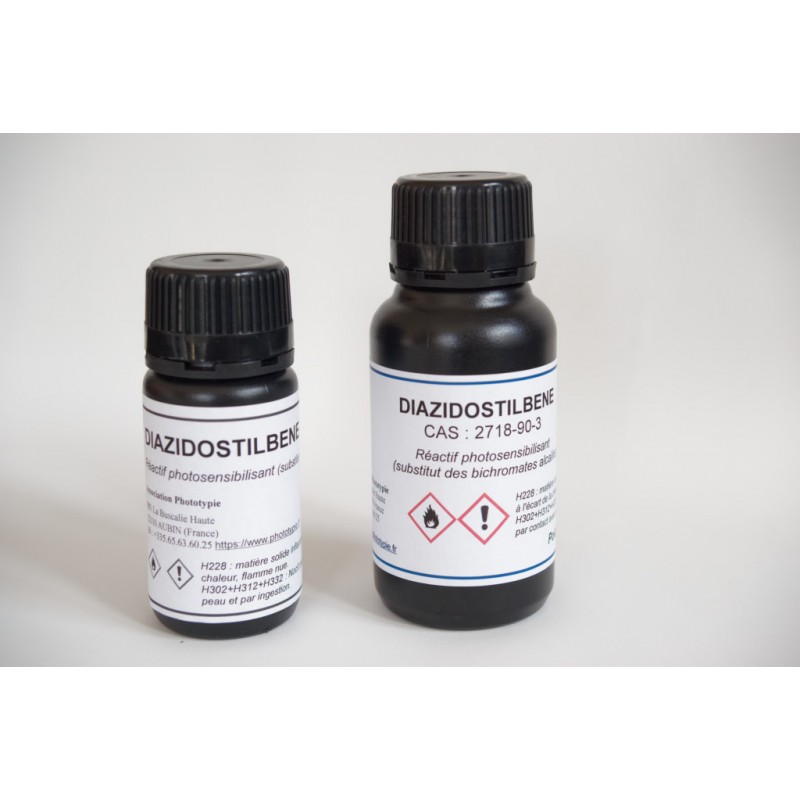  
Diazidostilbene

By paying with Paypal, you benefit from "PayPal Buyer Protection".

Shipping within 48 h - 3 to 4 days delivery in Europe with Colissimo (working days). Link for Colissimo and Mondial Relay tracking.

Returns Accepted : 14 days from receipt of the parcel.
Diazidostilbene 97 %
The diazidostilbene is a substitute of alkaline dichromates.
It can be used for the photographic processes in which potassium dichromate is traditionally used. The results are similar to those obtained with dichromates .
The diazidostilbene is known to work with gelatin, carboxymethyl cellulose, polyvinyl acetate, casein and probably many other substances.
It must be handled, and mixed under a safelight used as very sensitive to light (peak sensitivity at 335nm).
 
Trade name: diazidostilbene / DAS
Use of the substance : photosensitizer reagent (substitute alkalin dichromate - see bellow ECHA information)
Synonyms : 4,4 ' - diazidostilbene -2,2' - disulfonic Acid Disodium Salt Tetrahydrate
Chemical formula C14H8N6Na2O6S2·4H2O
CAS Number : 2718-90-3
Purity : higher than 97 %
Appearance : Crystals - powder
Color: Yellow - Yellow light slightly at reddish
Solubility : Soluble in water (recommended maximum 3%)
The 25/50 grams diazidostilbene are contained in a opaque HDPE bottle for photoresist. To ensure a long shelf life, store diazidostilbene not employed in the freezer. A smaller amount may be stored at room temperature. A working solution of about 2.5 % in water may be incorporated (maximum to 3 %), stored in brown bottles.
Unlike dichromate, DAS is non-toxic, non-carcinogenic, has no dark reaction, and colloids with which it comes in composition can be stored for long periods keeping intact their ability photosensitive.
After UV exposure, the impressions made using DAS require a sensitization process in 2 steps :
The first bath is a dilute solution of potassium permanganate or hydrogen peroxide in brine and the second bath is an ordinary sulfite / metabisulfite.
For more details on its use, see the document Using Diazidostilbene ("Attachments" tab).
Information from the European Chemicals Agency (ECHA) :
As from 21/09/2017, the placing on the market and use of potassium dichromate (CAS 7778-50-9) and ammonium dichromate (CAS 7789-09-5) are prohibited, unless an exemption or an authorization.
Internet links :
No customer reviews for the moment.
Customers who bought this product also bought:
1 other product in the same category: