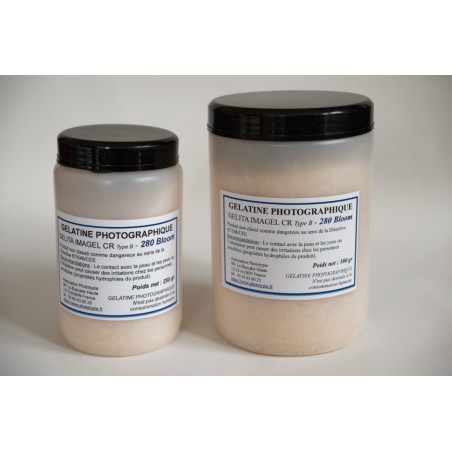  
Photographic gelatin 280 bloom
280 Bloom Photographic Gelatin (Type-B)
High hardness
Brand: GELITA
Type: IMAGEL CR
see description below
In bottles PEHD of 250gr and 500gr
Photographic gelatin GELITA IMAGEL CR (hardness: 280 Bloom - Type-B) (hard type)
High calcium content (~ 4500 mg / kg) and high gel strength (Bloom).
Due to its special production, high gel strength, low photographic activity and high calcium content, it is suitable for coatings, such as gelatin coating in photographic products, carbon photo, collotype , other photographic processes.
It is specially designed for chemical maturation (making photographic emulsions with silver halides), collotype.
Packaging: 250 gr and 500 gr bottles PEHD
No customer reviews for the moment.
Customers who bought this product also bought:
3 other products in the same category: